Welcome
About Us
The Tehama County Cattlewomen were originally formed as the Tehama
County CowBelles on April 25, 1953, starting with 74 members.
We are an organization that is an affiliate of the Tehama County Cattlemen's Association. Our
membership includes women who are interested in the promotion of the BEEF cattle industry and
those who are involved in the day to day business of raising cattle.
Our Creed
Believing that the livestock industry is of basic importance to world existence, we, the Tehama
CattleWomen dedicate ourselves to support it with our labor and finances; to promote it through
information and publicity; to encourage its producers with our understanding and love; to do all in our
power to instill in the coming generation the love of the land and of life, the humility and awe before
nature, and the hope and faith in the future that is inherent in Cattlemen and CattleWomen.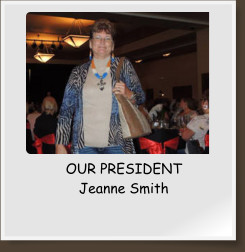 OUR MEETINGS
Our meetings are held on the
first Thursday of each month.
NEXT MEETING
Next Meeting November 9th
Noon, Rolling Hills Casino,
Timbers Steakhouse

JOIN TCCW
Want to be a part of TCCW?
Just click on the Button
below, print out a membership
form, and send it in!



2017 TCCW Officers
l

-r, Linda Borror - Parliamentarian; Tammy Chrisler - Membership; Renee Ewing- Treasurer; Jean
Barton - Corresponding Secretary; Cathy Tobin - 2nd Vice President; Jeanne Smith - President. Not
pictured were: Linda Walker - Secretary; Darci Richleau - 1st Vice President.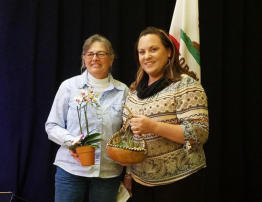 Congratulations to 2017 Tehama County
CattleWomen CowBelle of the Year Kari Dodd!
Tehama County Cattlemen
"Man of the Year", Brad Peek




•
Annual Winter Dinner is a success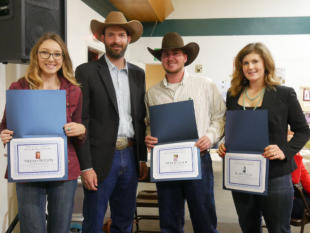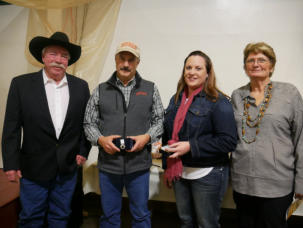 Congratulations to our Scholarship Recipients
Congratulations to TCCA "Man of the Year", Brad Peek
and TCCW "Cowbelle of the Year", Kari Dodd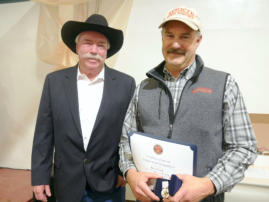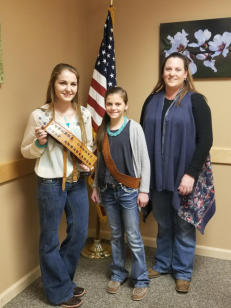 Congratulations to our 2018 Beef Ambassadors! Emyli
and Jacey did a great job during the three-part contest
this weekend. Thank you to to all of those that judged
and participated! Send Completed Applications:
Tehama County CattleWomen
Attn: Anne Owens
PO Box 555, Red Bluff, CA 96080
Drop Off Location:
275 Sale Lane Suite #2
Red Bluff, CA 96080
The following Scholarship applications are for printing, filling
out and submitting.
Successful CattleWomen's Sorting this year at the
Tehama District Fair. Huge thank you to our sponsors.
Western Crop Insurance Agency
Pine Creek Cattle Company, NorCal Sorters, Jeanne and
Richard Smith, lack Rock Cattle Company, WF Ranch
Sorting, Jim Bass, Tehama County Cattlemen, Knorr
Management, Inc., Reynolds Ranch, Croxton Lath &
Plaster, Cornerstone Bank Red Bluff, Golden State Farm
Credit
Results:
Winner for the open:
1st Rusty Milliken and Harley Milliken
2nd Lonnie Franklin and Marianna Franklin
3rd. Tony Ramos and Rusty Milliken
Open all around buckle winner went to Kathy Hayden
and Karin Knorr it was an all around from Glenn Co. Fair
and Tehama Co. Fair
Junior/Senior class:
1st. Joetta Griffin and Harley Milliken
2nd. Rusty Milliken and Makayla Milliken
3rd. Steve Fox and Maia Mayer
Jr/Sr all around buckle went to Steve Fox and Maia
Mayer
Age group buckle winners were:
Elaine Eden
Myah Milliken
Jaycee Eden
Maia Mayer
Harley Milliken
Makayla Milliken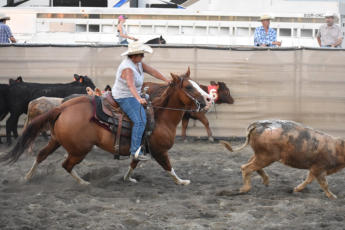 ****Dues are due. $40 State and Local.
Mail to: Tammy Chrisler
19800 Live Oak Road, Red Bluff, CA 96080
American National CattleWomen dues are due. $60.00
Mail to: ANCW
16799 Prairie Circle, El Reno, OK 73036
•
Oct 25 Tehama CO. Farm Bureau Bus Tour of Ag
•
Nov. 5 Farm City Dinner
•
Nov. 9 Meeting - Noon, Rolling Hills Casino,
Timbers Steakhouse
•
Nov. 10 Luncheon, Fashion Show. Rolling Hills
Casino
Tickets: $ 30. Shelley Macdonald:
rsjwmac@sbcglobal.net, 530-529-9679
(If unavailable, your message returned as soon as
possible) ** Need items for the Cowboy Pantry. baked
goods, candy, plants, etc.