Welcome
About Us
The Tehama County Cattlewomen were originally formed as the Tehama
County CowBelles on April 25, 1953, starting with 74 members.
We are an organization that is an affiliate of the Tehama County Cattlemen's Association. Our
membership includes women who are interested in the promotion of the BEEF cattle industry and
those who are involved in the day to day business of raising cattle.
Our Creed
Believing that the livestock industry is of basic importance to world existence, we, the Tehama
CattleWomen dedicate ourselves to support it with our labor and finances; to promote it through
information and publicity; to encourage its producers with our understanding and love; to do all in our
power to instill in the coming generation the love of the land and of life, the humility and awe before
nature, and the hope and faith in the future that is inherent in Cattlemen and CattleWomen.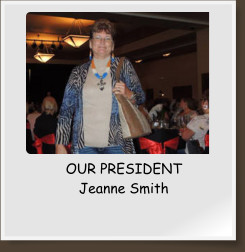 OUR MEETINGS
Our meetings are held on the
first Thursday of each month.
NEXT MEETING
April 5 - Noon at the Farm
Bureau Office

JOIN TCCW
Want to be a part of TCCW?
Just click on the Button
below, print out a membership
form, and send it in!



2017 TCCW Officers
l

-r, Linda Borror - Parliamentarian; Tammy Chrisler - Membership; Renee Ewing- Treasurer; Jean
Barton - Corresponding Secretary; Cathy Tobin - 2nd Vice President; Jeanne Smith - President. Not
pictured were: Linda Walker - Secretary; Darci Richleau - 1st Vice President.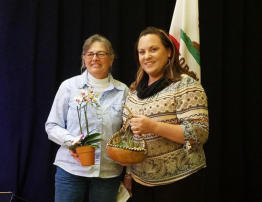 Congratulations to 2017 Tehama County
CattleWomen CowBelle of the Year Kari Dodd!
Tehama County Cattlemen
"Man of the Year", Brad Peek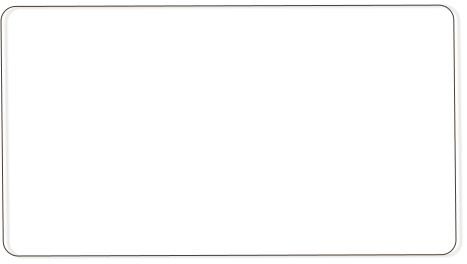 The Tehama County Cattlewomen (TCCW) are pleased to
announce that they have awarded a total of $9,000 in
scholarships to a group of accomplished Tehama County
students this year.
The three ag major scholarships went to Bailey Brownfield,
Sutter Long and Will Macdonald. The two scholarships to non-ag
majors went to Jessica Macdonald and Jenny McCluskey.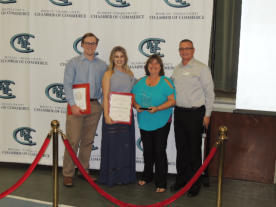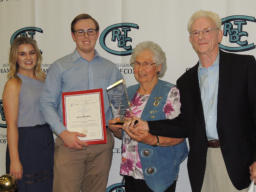 2017 Red Bluff-Tehama County Chamber of Commerce
Gene Penne Award for Business and Community
Leasdership.Jean Barton
2017 Red Bluff-Tehama County Chamber of Commerce
Spirt of Red Bluff Award.Mandi Selvester-Owens
TCCW Monthly Newsletter
For more information and for a printable
flyer please click on the image below.
•
Annual Winter Dinner is a success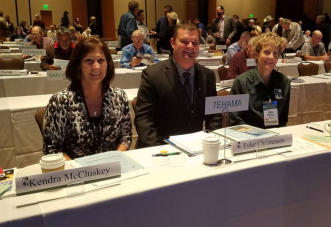 Our local Tehama County Farm Bureau delegates
getting ready for the business session at the 99th
California Farm Bureau annual meeting.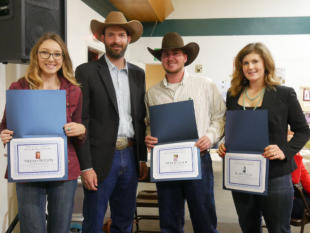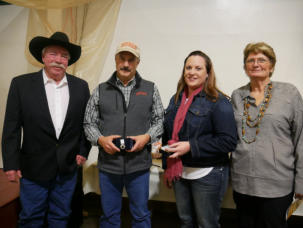 Congratulations to our Scholarship Recipients
Congratulations to TCCA "Man of the Year", Brad Peek
and TCCW "Cowbelle of the Year", Kari Dodd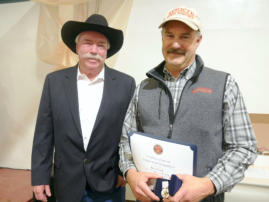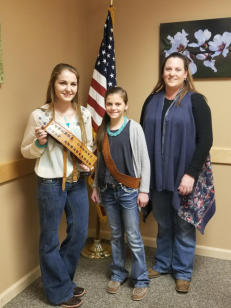 Congratulations to our 2018 Beef Ambassadors! Emyli
and Jacey did a great job during the three-part contest
this weekend. Thank you to to all of those that judged
and participated!